Keep up to date with all the latest news from Fire Shield Systems and Dafo UK & Ireland.
We'll bring you all the latest news, developments and information from Fire Shield & Dafo headquarters as well as key news from your industry…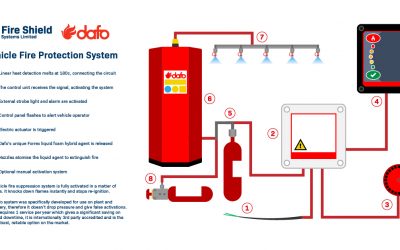 The Fire Shield vehicle fire suppression system is made of up of nine unique components, as shown below. These act in concert to quickly eliminate fires before serious damage is caused to your vehicles or vehicle operators are put at risk. Each...
read more
Setting The Standard For Fire Protection Systems