Mobile plant fire suppression, and machinery fire protection systems
Fire protection systems for mobile plant and machinery designed to prevent fires before they take hold, minimising downtime and costs incurred.
Your mobile plant and machinery works in harsh environments, operates for long hours without breaks and constantly accumulates dirt and dust. Combined, this means you have expensive, business-critical items which are at a high risk of catching fire. 
Any mobile plant fire could cost your business thousands of pounds in a matter of seconds, making your choice of fire suppression solution an extremely important decision and vital in protecting your investments. 
Our team has been helping businesses protect their mobile plant and machinery from fire for decades. We provide all the information you need to make the best-possible decision. Call us today on 0800 975 5767 to discuss your situation with a fire protection specialist.
About our system
Our mobile plant fire suppression system has been specifically designed to react to and eliminate fires in their earliest stages. In a moment where every second counts, this dramatically reduces the damage caused, ensuring financial costs and business interruptions are minimised. 
We have spent years evaluating all the options, using all the knowledge we have developed to select only the best machinery fire protection solution, so you can live safe in the knowledge your mobile plant fire protection is in the best-possible hands. 
The Dafo fire suppression system has been designed to eliminate fires quickly whilst minimising clean up and maintenance requirements, making it the most cost-effective system around over the life of the product. This is shown in the graph below: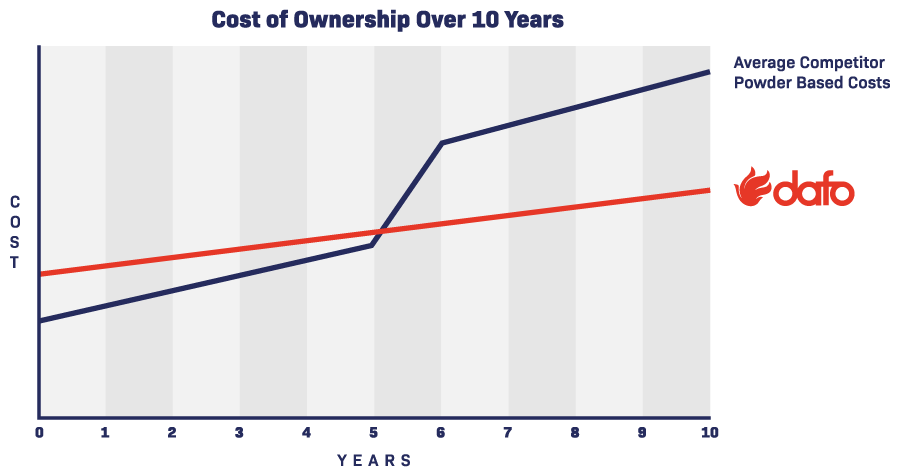 How it works
We use a unique agent (Forrex) which has been specially formulated for use in mobile plant fire protection.  
Upon triggering the fire protection system, it coats the vehicle compartment in this liquid, cutting off oxygen and quickly stopping the fire. Coating the engine also removes the risk of reignition, allowing the engine to safely cool down until that risk has passed. 
The system consists of three integrated sections, which quickly work together to detect and eliminate fires. 
Firstly, a linear heat detection cable, which has been positioned in high risk areas of the machinery, detects the fire starting and connects the circuit. This automatically activates the fire suppression system. 
Upon activation, the alarm will trigger, alerting operators and anyone nearby of the budding fire to allow them to quickly get to safety. Alongside this, the suppression system activates, coating the engine in our Forrex agent, eliminating the fire and ensuring you don't need to worry about reignition. 
The video below shows how the system works in a vehicle in detail alongside providing an insight into our installation process.
How to keep safe in the event of a fire
How do you protect your mobile plant and machinery equipment from the risk of fire?
The Dafo Vehicle Fire Protection System is designed, tested and proven to be the most reliable and robust option for plant and machinery fire protection.
Watch this video to find out more about the system and how it works to keep high-value machinery assets safe in the event of a fire.
The benefits of our mobile plant fire suppression system
Minimal maintenance 
Unlike many alternative solutions, our system only requires servicing once per year. Allowing you to focus on running your business without worrying about fleet downtime. 
Comprehensive training and aftercare 
We understand our obligations to you don't end at installing the system. Rather, we provide comprehensive training to ensure all members of staff can confidently utilise the system. In addition, we're always available to speak if you require extra support following installation. 
Proven reliability 
All our products have undergone extensive testing to ensure they're the most reliable available on the market, allowing you to operate in complete confidence. 
Flexibility 
We offer an extremely wide product range which is flexible enough to outfit your entire fleet, whatever your requirements. 
Bespoke solutions 
 No two fleets and businesses are the same, so why would their fire protection solutions be the same? We work side-by-side with you to develop a bespoke solution perfectly suited to your requirements. 
Why Fire Shield?
Our team has been designing, installing and maintaining bespoke, accredited mobile plant and machinery fire protection systems for businesses of all types for decades. We know exactly what needs to be done to ensure the safety of your systems. 
Contact us
If you would like to discover more about our system or you're just looking for advice on fire protection, contact us today by calling us on 0800 975 5767. Alternatively, fill out our contact form to request a call back from a member of our team. 
Setting The Standard For Fire Protection Systems