Vehicle fire suppression systems designed to quickly and effectively eliminate vehicle fires, helping you protect your most valuable assets.
Today sites are busier, equipment is more expensive and profit margins are thinner than ever before, making vehicle fire suppression systems more important than ever. 
The right vehicle fire protection system will eliminate fires quickly, effectively and with the minimum of fuss, meaning you just need to worry about your work. 
As sites get busier, with more and more people and equipment crammed in, the risk of a small spark evolving into a large, tragic incident dramatically increases. In addition to this severe damage to your expensive vehicles could cause serious financial problems. 
Our vehicle fire suppression system protects you from these risks, letting you focus on getting your job done. 
About our system
At Fire Shield Systems, we use Dafo fire suppression systems to eliminate fire in its earliest stages, before it can spread to combustible areas and cause serious damage to your vehicle. 
Our system consists of three integrated sections which work together in a fast, co-ordinated way to suppress any fire in the engine compartment, these are: 
Detection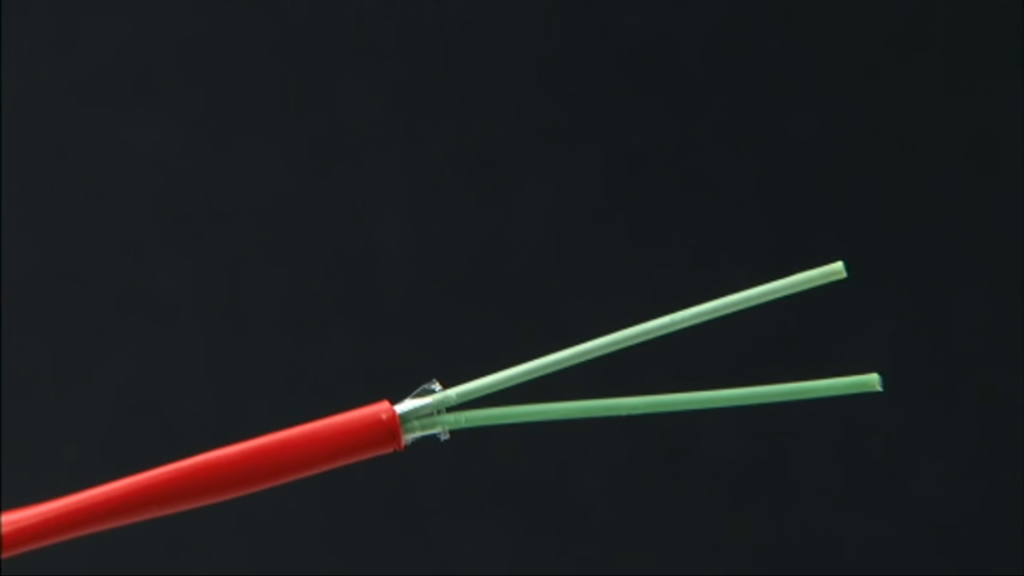 A Linear Heat Detection Cable is positioned in high-risk areas throughout the engine compartment, ensuring early detection of any fire 
Alarm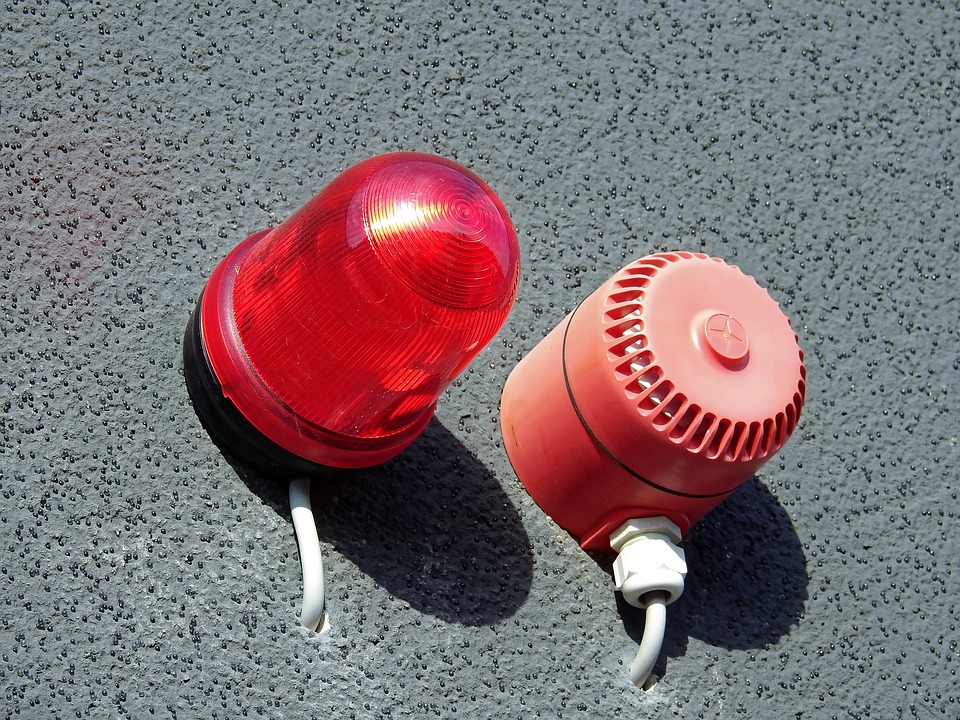 Once a fire is detected; internal and external alarm panels will be triggered to alert both the driver and staff around the machine of the danger. The system will then be released automatically, ensuring an almost instant response. Alternatively, your vehicle driver can manually activate the system.
Suppression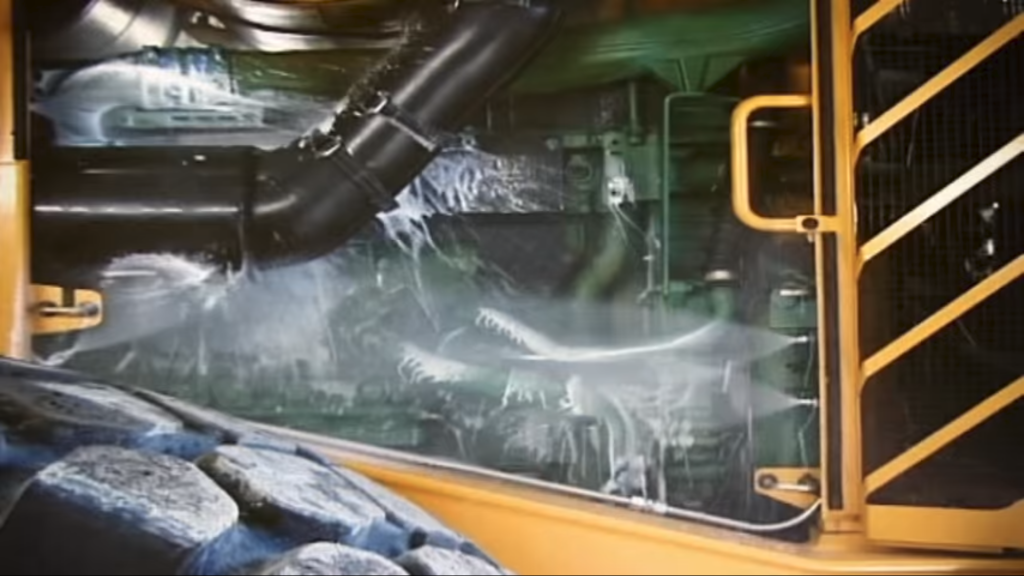 A distribution network of flexible fire-resistant hydraulic hoses and stainless-steel pipes cover all high-risk areas of the vehicle. Once the suppression system is triggered, these will activate, quickly and efficiently eliminating the fire. 
Using a unique agent which has been specifically formulated for fighting fires in engine compartments, our system quickly coats all areas of the engine to cut off the fire's oxygen supply and quickly eliminate it. Coating the entire engine also tackles the possibility of reignition, allowing the engine to cool down until the risk of reignition has passed. 
How it works
Fire Protection Guide
Not sure which fire protection system you need? Check our comprehensive Fire Protection Guide.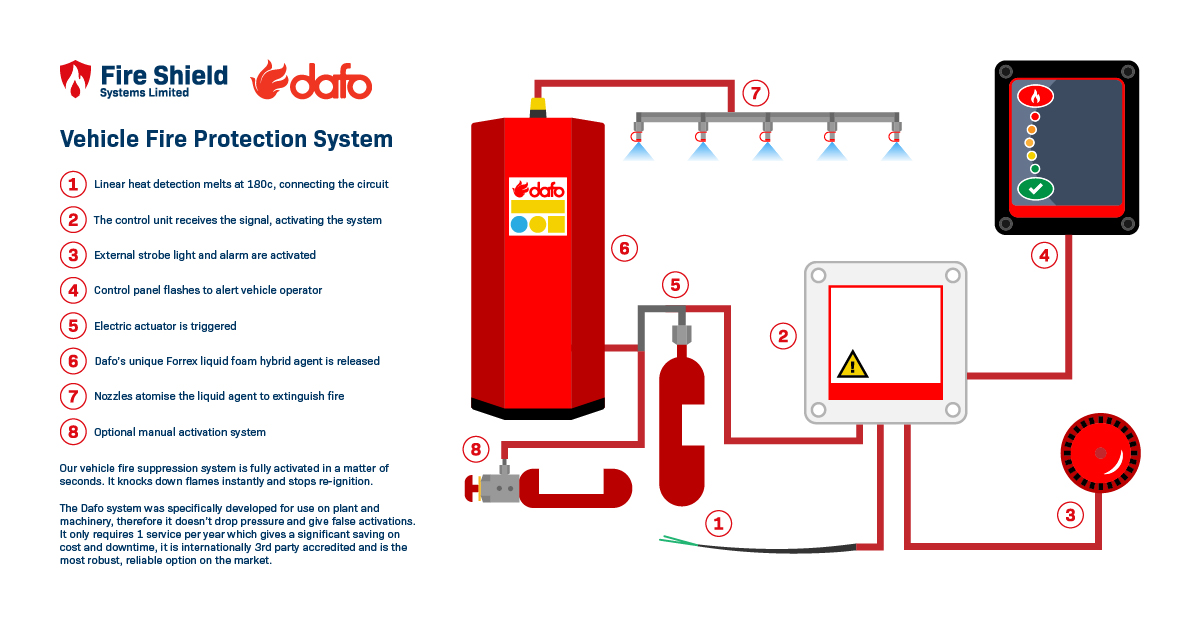 Our vehicle fire protection system consists of the following components: 
A main control unit, which connects to a control panel

 

An emergency stop button situated in the cab

 

A strobe light alarm system

 

An audible alarm outside the machine

 

A gas generator or electric actuator

 

A wet chem tank

 

Suppression nozzles 

A manual activation device

 

The heat-sensitive line detector which connects to the control unit

 
The line detector consists of two parallel metal wires covered with a heat-sensitive plastic. Upon temperatures reaching 160oC the plastic melts and the metal wires connect; this causes a signal to be sent to the control unit which tells the fire suppression system to sound the alarm. 
In total, the process of the fire starting to the suppression system activating takes less than a handful of seconds, ensuring you always have the fastest-possible reaction to potential fires. 
Our vehicle fire protection system operates under both automatic and manual-activation protocols, which depend on the current vehicle activity and how you set it up. 
If your vehicle is parked with the engine turned off or idling, suppression will commence automatically, ensuring your equipment is protected at all hours. 
For a full breakdown of how the system works and the chance to see it in action putting out a live fire, please watch this video
The benefits of the Dafo Vehicle Fire Protection System
Unparalleled knowledge 
We work with Dafo, the market leader in vehicle fire protection systems. Their knowledge, combined with our decades of in-house experience, means you can be certain you're always going to have the best-possible advice. 
Less maintenance  
Unlike alternative solutions, our system only requires one service per year. Meaning you spend less time worrying about unnecessary fleet downtime, and more time focusing on revenue-generating activities. 
Incredible flexibility 
The Dafo product range is incredibly comprehensive, ensuring the Dafo vehicle fire suppression system is flexible enough to outfit your entire fleet, whatever your requirements. 
Comprehensive training 
We don't sell you a system and leave you to it. Rather, we offer a comprehensive training programme designed to teach you everything you need to know and more about operating the system effectively. And our team is always on-hand should you have any questions. 
Proven reliability 
All our vehicle fire suppression products have undergone extensive testing to ensure they're the most reliable around, allowing you to operate in complete confidence. 
Better value for money
Research has shown the Dafo vehicle fire suppression system has a much better value for money over time in comparison to alternative, powder-based systems. This is highlighted in the graph below. 
The Dafo System in action
The Dafo Vehicle Fire Protection System consists of three, important, integrated systems – detection, alarm and suppression – and has been designed specifically to protect plant and machinery in the event of a fire.
These elements work together in a coordinated, fast and efficient way to quickly suppress fire in high-risk areas.
Dafo Fire Suppression System – Forrex
Dafo Forrex is a unique wet/ liquid agent which has been specially formulated for fighting fires in engine compartments. A specifically designed agent, combines the knockdown properties of dry powder, the heat reduction of water mist and the deep- seated component cooling and prevention of reignition.
Flame Knockdown – Forrex has interlocking fields of spray which coats all areas of the engine, cutting off the fuels' oxygen supply. The swift discharge and interlocking spray patterns of the nozzles helps to displace the oxygen and absorb the radiant heat of the fire to "kill" the flames breaking the feedback loop of the fire.
Cooling of risk area & components – Forrex uses a special size of droplet spray size, balanced between a water mist and a semi-coarse spray. Forrex spray droplets are slightly coarse – still small enough to create massive surface area which absorbs the radiant heat, but large enough to penetrate the heat plume-falling upon the surfaces temperature, therefore helping to prevent reignition.
Forrex is also extremely effective at following the contours of the engine components in the risk area to ensure it reaches every area where the fire may be. This is particularly important for a flammable liquid fire, as it means the Forrex can follow the path that the burning fuel is flowing in order to ensure effective suppression.
Prevention of reignition – Forrex – tackles the risk of reignition both by cooling and saturating the fuels and ignition sources (as detailed above) but also by leaving a coating of Forrex over the protected surfaces to continue cooling and cut off the fuels' oxygen supply. Forrex has fantastic adhesion properties to ensure it effectively coats all surfaces until the risk of reignition has passed.
Clean up after Discharge – Forrex agent has been designed to be gentle on the engine and can be washed after discharge simply by rinsing the risk area down with water.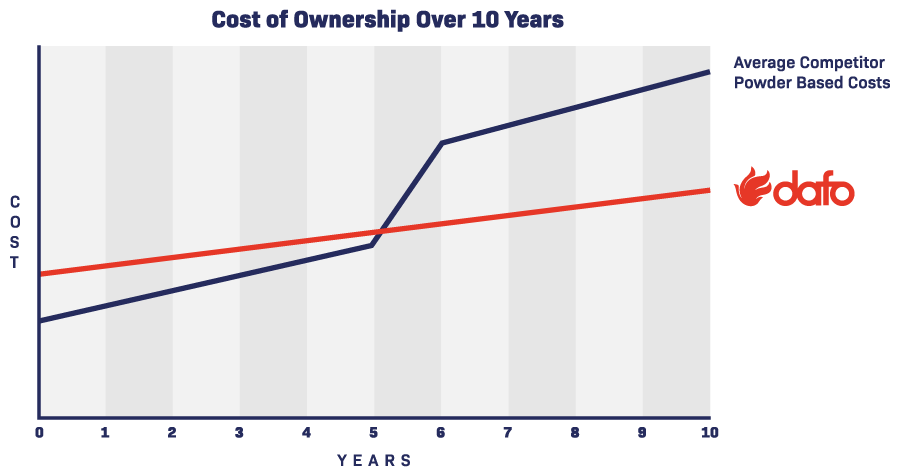 Why Fire Shield Systems?
We design, install and maintain bespoke, accredited vehicle fire protection systems across the UK from our facility in the East Midlands.
Our team has a wealth of experience in designing and installing fire suppression systems specifically designed for fleets of all types, giving you the peace of mind of knowing the protection of your fleet is in safe hands.
We're proud to have the exclusive license to install Dafo fire protection systems across the UK and Ireland. With only one service required per year and over 100,000 successful installs worldwide, the Dafo system reduces fleet downtime, has proven reliability and has much better ROI than alternatives over the lifetime of the product.
Contact us
To find out more about the Dafo vehicle fire suppression system and discuss how we could help protect your fleet from fire risks, get in touch with our specialist team today.
Call us: +44(0)800 975 5767
Setting The Standard For Fire Protection Systems