Vehicle fire suppression systems designed to quickly and effectively eliminate vehicle fires, helping you protect your most valuable assets.
About our system
At Fire Shield, we use Dafo fire suppression systems to eliminate fire in its earliest stages, before it has the opportunity to spread to combustible areas and cause serious damage to your vehicle. This helps to:
Protect your staff
Limit damage to your vehicles
Reduce your insurance premiums.
Our system consists of three integrated sections which work together in a fast, co-ordinated way to suppress any fire in the engine compartment, these are:
Detection: A Linear Heat Detection Cable is positioned in high-risk areas throughout the engine compartment, ensuring early detection of any fire
Alarm: Once a fire is detected; internal and external alarm panels will be triggered to alert both the driver and staff around the machine of the danger. The vehicle driver can then release the system automatically or manually, ensuring an almost instant response. If required, we can also install the alarm system in your control room, allowing the operator to release the fire suppression system from the control room. This gives complete control and allows you to remove pressure from the driver, allowing them to focus on safely exiting the vehicle
Suppression: A distribution network of flexible fire-resistant hydraulic hoses and stainless-steel pipes cover all high-risk areas of the vehicle. Once the suppression system is triggered, these will activate, quickly and efficiently eliminating the fire.
Using a unique agent which has been specifically formulated for fighting fires in engine compartments, our system quickly coats all areas of the engine to cut off the fire's oxygen supply and quickly eliminate it. Coating the entire engine also tackles the possibility of reignition, allowing the engine to cool down until the risk of reignition has passed.
Why Fire Shield Systems?
We design, install and maintain bespoke, accredited vehicle fire protection systems across the UK from our facility in the East Midlands.
Our team has a wealth of experience in designing and installing fire suppression systems specifically designed for fleets of all types, giving you the peace of mind of knowing the protection of your fleet is in safe hands.
We're proud to have the exclusive license to install Dafo fire protection systems across the UK and Ireland. With only one service required per year and over 100,000 successful installs worldwide, the Dafo system reduces fleet downtime, has proven reliability and has much better ROI than alternatives over the lifetime of the product.
Contact us
To find out more about the Dafo vehicle fire suppression system and discuss how we could help protect your fleet from fire risks, get in touch with our specialist team today.
Call us: +44(0)800 975 5767
The cost of ownership benefit with the Dafo Vehicle Fire Protection System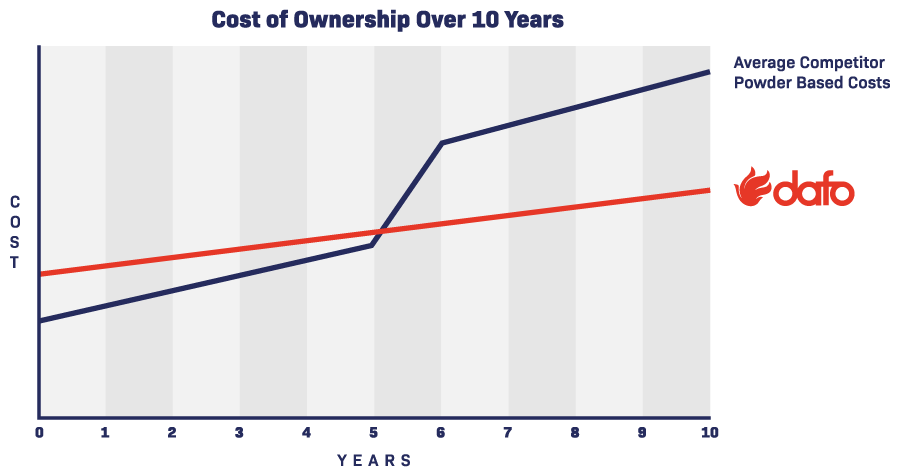 Setting The Standard For Fire Protection Systems